Hanningfield expenses: Council wants report before court action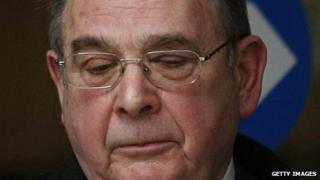 A new report will be compiled by council officials to decide if it is worthwhile to sue disgraced peer Lord Hanningfield over expenses.
Essex County Council's executive wants the report to consider the issue of civil proceedings and whether to take action to recover any illegal claims.
Essex Police said last month they were no longer pursuing action.
The audit committee also recommended on Monday an examination of the council's own role in monitoring procedures.
The new report will be used by the executive to decide on whether to pursue further action after its recommendations are discussed.
Insufficient evidence
Lord Hanningfield is yet to comment on the original audit committee report or the new proposal.
The peer served nine weeks of a nine-month sentence for parliamentary expenses fraud totalling nearly £14,000. He was freed in September 2011.
He became leader of the council in 2000 and was issued with a credit card, the report said.
It is claimed some of the spending on the card was not backed up by receipts and there were other discrepancies, as several people had access to it.
Last month police and the Crown Prosecution Service decided there was insufficient evidence to make a criminal case against the peer over his expenses claims during his time as leader of Essex County Council and closed their files.