Billybob Penn challenges Tesco's Halstead store plan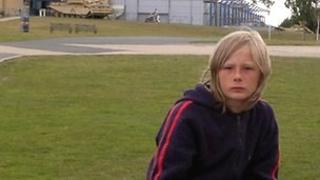 Supermarket chain Tesco has come up against an unlikely foe in its bid to build a new store in Essex - a 12-year-old schoolboy.
Tesco wants to build a new store in land east of Halstead's High Street.
Among the objections sent to Braintree District Council was one from Billybob Penn, who said the air raid shelters on the current site were an important part of the town's history.
Tesco said it believed its plan would "enhance the vitality" of Halstead.
A bid to remove nine shelters - eight underground and one above - has been lodged with the district council.
But in his letter, Billybob, a pupil at Hedingham School, said: "I would not like you to get rid of the air raid shelters.
'Love to learn'
"I think it would be good for children of all ages to be able to go and see the historic features of Halstead. These are the air raid shelters.
"I and my friends would love to learn more about the air raid shelters because they are a good part of history."
Billybob's mother Eileen Penn said: "I am very proud of him."
A spokesman for Tesco said: "We are proposing a small food store for Halstead town centre. The new store will offer an improved shopping choice and jobs for local people.
"We believe the store has the potential to enhance the vitality of Halstead and keep people shopping in the town.
"Our application is due to go to committee in the new year and we are looking forward to this investment being considered by the local council."
A spokesman for the district council said: "Like all applications, the proposals for the development of the site will be considered on their planning merits."