Missing Southend Harris hawk returned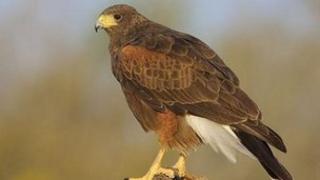 A Harris hawk which went missing during a pigeon scaring operation has been returned to its owner.
The three-year-old bird called Riddick belongs to Blackwater Falconry.
It disappeared from Stock Road in Southend on Tuesday afternoon and was later reported to be at a cemetery in the town.
The bird, described as "friendly" by his owners, was found by a member of the public and looked after until it could be returned.
It is thought Riddick's tracking device had run out of battery power which made it difficult for Blackwater Falconry staff to track him down.
Michael Hall, who runs the falconry, said the bird was found on Wednesday night and handed back on Thursday.