Ex-Ford worker Keith Ellinor's end of spare wheel idea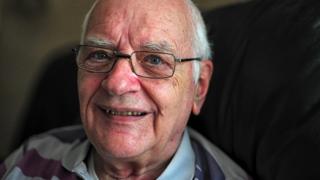 It was a quiet revolution that saved the world's car makers billions of pounds.
Spare wheels once came as standard on all new cars. Not any more.
Today, few cars roll off the production line with a full-size spare in the boot.
In a move not universally popular, spare wheels have become an optional extra.
This week the RAC said it got about 80,000 calls a year from motorists without a spare wheel.
And a BBC investigation for Watchdog last October found only one of the top ten-selling models in 2011 carried a spare tyre.
Instead of a spare wheel, cars are sold with either a 'skinny' spare - known as a "space saver" - or a tyre sealant and inflator pack.
Whose idea was it to remove the full-size spare?
Well, Keith Ellinor, a retired 77-year-old engineer who lives in Basildon, Essex, believes it was his.
After a career working on diesel engines, he was hired as a consultant by Ford in the early 1990s to join a special unit.
'Out of my mind'
"They wanted a cost-reduction team created," said Mr Ellinor, who had taken early retirement having worked for Ford since 1966.
This new team brought together former Ford employees from across the business.
Their job, on paper, was simple: to look at all aspects of vehicle production and work out how it could be done cheaper.
The cost-reduction team - overseen by Mark Tami Hotta - was given a tour of Ford's Genk plant in Belgium, They looked at the production lines and spoke to staff about how things were done.
Then came the first meeting.
"There was the plant manager for Genk and various other people and we would put all our ideas on a whiteboard," said Mr Ellinor.
"When it was my turn, I said 'Ditch the spare wheel and tyre. You could do that overnight'. I asked one of the people there how much that would save and was told it would be $50 (£30).
"I was told I must have been out of my mind because nobody was going to buy a car without a spare wheel.
'Lead balloon'
"I asked how many times that person had used their spare wheel. I was told they had never used it.
"But the idea went down like a lead balloon."
Undeterred, Mr Ellinor made the same recommendation after a subsequent tour and meeting at the Saarlouis plant in Germany.
"I again said they should delete the spare wheel. But still people did not want to know."
Although his idea was rejected at the time, Mr Ellinor and Mr Tami Hotta, the son of an Hiroshima nuclear bomb survivor, remained friends.
Then, about 10 years ago, he received an email from Mr Tami Hotta.
It read: "It has only taken a decade for us Americans to accept your idea. It really has made a vast difference."
'Frustrated'
Asked how he felt when he saw a car without a spare, Mr Ellinor smiled and said: "I did that."
He said he had never had to change a wheel.
"And with alloy wheels, they are on so tight, I doubt whether most people could change one these days," he added.
RAC patrolman Chris Millward told BBC News the lack of a spare tyre could lead to "frustration" and "anger".
"They are expecting to find a spare wheel, so they are frustrated when we get there and they find they have not got a spare wheel.
"Some customers actually think the wheel has been stolen."
The Society of Motor Manufacturers and Traders, which represents the motoring industry, said doing away with spare wheels gave drivers more space, made cars a little cheaper to buy and improved fuel economy.