Titilola Orefuwa: Essex nurse left room during procedure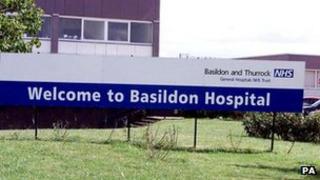 A baby suffered "unnecessary" pain after a nurse left a room leaving a student to carry out a lumbar puncture on the child, a tribunal heard.
Nurse Titilola Orefuwa was supposed to catch fluid from the spine, but left the room as the needle put in, the Nursing and Midwifery Council heard.
The procedure had to be repeated, after the incident at Basildon and Thurrock University Hospital, Essex, in 2007.
Ms Orefuwa admitted the charge over her actions in May that year.
Presenting the case for the NMC, Rebecca Wood said: "The registrant (Ms Orefuwa) left the room as the needle was going into the spine.
"As there was no-one to catch the specimen the student nurse had to wait until the registrant was in the room and had to repeat the procedure, causing unnecessary stress and pain to the child."
Ms Orefuwa was also accused of using Facebook while caring for a critically ill child but Ms Wood said the NMC had insufficient evidence to proceed with that charge.
The panel found that the charge was not proved.