Help for 'naughty' bull Clarence after fears he could be destroyed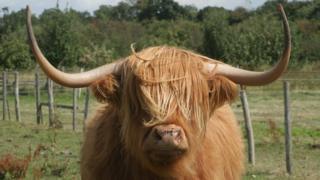 A woman said she had been "overwhelmed" by support after saying her bull may be destroyed because he will not let vets get close to him.
Clarence, a "naughty" 10-year-old Highland, is required by government to be tested for tuberculosis but attempts to check him have so far been in vain.
Carol Jacobs, owner of Greenland Grove Animal Sanctuary in St Osyth, Essex, said he must be tested by 4 February.
A farmer has offered to lend equipment to hold the bull steady for the vets.
Clarence weighs about 600 to 700 kilos (94 to 110 stone), Ms Jacobs said, and his horns "could pose a threat to humans".
'Kind man'
"He doesn't like being touched other than on his face. He is a little naughty," she added.
Government legislation requires all cattle, including those not housed on farms, to be tested for bovine TB.
Officers from Animal Health and Veterinary Laboratories Agency (AHVLA) carry out the tests on behalf of Defra.
"Animal Health has said he has to be tested or he'll be destroyed," Ms Jacobs said.
Clarence's mother, Rosie, was tested and cleared in October but her offspring was "not having any of it".
Ms Jacobs wrote about Clarence's dilemma on the sanctuary website and said the response had been "amazing".
Some of the sanctuary's supporters had offered money towards the hire or purchase of a cattle crush, she said.
The equipment would allow Clarence to be held securely and tested, without posing a threat to the vet.
But, the "great news", she said, was an offer from a local farmer to say he would lend her the £3,000 piece of equipment.