Broomfield Hospital defends Christine Shinwell care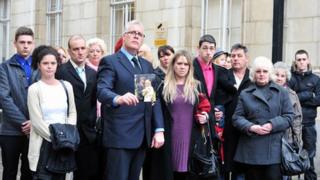 Nurses' concerns for the welfare of a dying patient went unanswered by doctors, an inquest heard.
Christine Shinwell, 63, died of heart failure at Broomfield Hospital in Chelmsford in 2009.
An inquest in Chelmsford heard how the night before her death nurses noticed she was getting worse. Their attempts to hail a doctor went unanswered.
The hospital said it had investigated the case and "was confident in the care it had provided".
During the hearing, the inquest was told how nurses became concerned about Mrs Shinwell's condition at about 22:00 GMT on 3 December.
They tried to reach a doctor but got no answer, the inquest heard.
Independent consultant Dr Clive Lewis said: "In these circumstances, a medical review should take place within 30 minutes."
That did not happen. The next review happened five hours later just minutes before death, the inquest was told.
Bleeped
However, Dr Lewis said: "Even if there had been a medical review, the outcome would have been the same.
"Overall, I feel that the investigation, diagnosis and treatment of Mrs Shinwell was within usual and reasonable medical practice."
Essex and Thurrock Coroner Caroline Beasley-Murray said staff "should have escalated their request" to more senior doctors.
Recording a narrative verdict that Mrs Shinwell, of Chelmsford, died of natural causes, Mrs Beasley-Murray also criticised the way in which the hospital communicated with Mrs Shinwell's family.
The inquest was told Mrs Shinwell was not resuscitated despite her nursing records saying she was "for resuscitation" because it would have been futile.
Mrs Beasley-Murray said: "There should have been communication of the terminal nature of Mrs Shinwell's cardiac failure by staff, and earlier discussions about end of life care should have been held."
Mrs Shinwell's widower Colin Green said: "No-one actually took responsibility. There was no real named consultant looking out for the best interests or safety of my wife."
A statement from the hospital released after the hearing on Tuesday said a "thorough investigation" into the case had taken place adding the hospital "was confident in the care it had provided".
"Mid Essex Hospital Services NHS Trust always strives to ensure lessons are learnt from any deaths that occur at the hospital and is pleased that a thorough investigation and inquest has taken place," the hospital said.
"Mrs Shinwell received excellent state-of-the-art care from the NHS, in particular over the last 25 years of her life - including life prolonging and life saving treatment."