100-year-old man continues to work after 'boring' retirement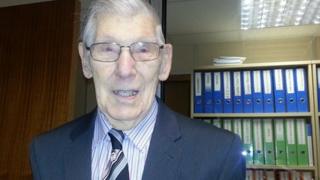 A 100-year-old man from Essex says he has no plans to give up the job he started 34 years ago after becoming "bored" with retirement.
Jim Clements, who lives and works in Harlow, said he started the role at Active Security after his wife told him to get a job.
He said: "My wife got on to me because I kept moaning and didn't know what to do with myself.
"I shall hate it when I do pack up, but it's got to come one day."
Mr Clements, who turned 100 on 20 January, spends two mornings a week at work.
His roles include "filing, shredding and making tea".
He said: "I went for a month's trial and it progressed from there.
"I like everyone who works there, they are very, very good to me."
Before he took retirement, Mr Clements's jobs included making torpedoes.
'Absolutely excellent'
He became a widower 20 years ago and said the part-time job kept his mind active.
However, he does not have any words of advice to younger employees wanting to follow his lead.
"I just keep plodding on, that's all," he said.
His manager, Ray Le Monde, said he was an "absolutely excellent" member of staff and an "inspiration".
"He's a 100-year-old who still thinks he's 21," said Mr Le Monde, managing director at Active Security.
He said: "We have to rein him in sometimes and make him respect his age. He's very conscientious and willing to do more tasks than we will ever let him."
Jackie Cowley also works at Active Security and says she is part of a group of friends who take it in turns to look after Mr Clements.
She said: "They won't let him finish work, they like to keep an eye on him to make sure he's alright."
Mr Clements celebrated his birthday at a restaurant built on the site of the cottage where he was born, in Sawbridgeworth, Hertfordshire.
Ms Cowley says Mr Clements has an active social life and "a wicked sense of humour".
"He still gets a dirty joke," she said. "He just comes out of the blue with stuff, he's a diamond geezer.
"He doesn't look his age, he only looks about 80."