'Southend Takeover' cruise cancelled by injunction threat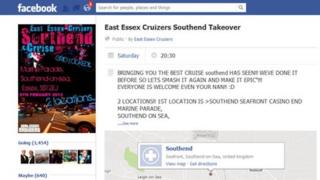 Organisers have called off a car cruising event after a council and police said they were applying for an injunction to stop it going ahead.
The event had been due to take place on Saturday on Southend's Marine Parade with the owners of hundreds of modified cars expected to attend.
But Southend Borough Council and Essex Police said they would be applying for an injunction to stop it going ahead.
A police spokesman said they had "a number of resources on standby".
Southend Borough Council's chief executive, Rob Tinlin, said: "We are currently in discussions with Essex Police and exploring all options - including the possibility of seeking an injunction, to tackle the issue of an unauthorised large-scale cruiser event anticipated to take place in Southend."
Sgt Ian Hughes said they would be able to "address the potential volume of vehicles coming to Southend on 9 February if the injunction is successful or not".
A posting on East Essex Cruizers' Facebook page says the event has been cancelled, adding: "If you choose to ignore this you will be doing it off your own back."