Lord Hanningfield: Peer claims damages over arrest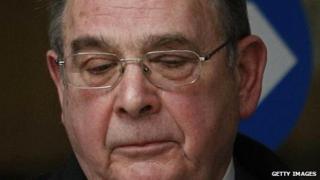 Former Tory peer Lord Hanningfield has brought a damages action against Essex police at the High Court in London.
The ex-council leader is suing for £6,500 compensation for illegal arrest.
He was held in September 2011 - days after being freed from jail for false accounting over parliamentary expenses.
Police, who were probing expenses from when he was leader of Essex County Council, deny his arrest at his home near Chelmsford was unlawful.
No charges were made following the investigation over the council expenses.
They say they were invited into the house before Lord Hanningfield, 72, was taken to Braintree police station, interviewed and bailed without any conditions.
Lord Hanningfield told Mr Justice Eady in London he accepted he made mistakes over his parliamentary expenses but did not ever think he was doing anything wrong.
He served nine weeks of a nine-month sentence.
"I was convicted by a jury and that's how life is. It is water under the bridge."
Reasonable grounds
He said he was surprised and upset about the Essex investigation and thought the allegation against him "ridiculous". It was later discontinued.
"I have given 40 years of my life to public service and the last three or four years have been traumatic.
"It's been like a tsunami overwhelming me."
He said he was woken at 06:45 GMT by police at the door and said he just let them in and was more worried about missing a medical appointment.
Andrew Warnock QC, for the police, said that Lord Hanningfield accepted the police had reasonable grounds for suspecting him of abusing his position in relation to his use of an Essex County Council credit card account.
Lord Hanningfield claimed that they did not have reasonable grounds for believing that his arrest was "necessary" within the terms of the Police and Criminal Evidence Act 1984.
Mr Warnock said the arresting officer had "more than reasonable" grounds to believe that arrest was necessary so the detention and search were as well.
The case continues