Dale Farm eviction: Council to lease traveller site land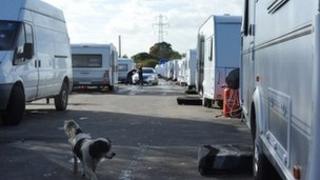 Arrangements have been agreed for a new traveller site which could become home to some of those evicted from Europe's largest traveller plot at Dale Farm.
Basildon Borough Council approved plans for a 15-pitch site in Gardiners Lane South, Basildon, late last year.
On Thursday night, the Conservative-run council agreed what its role would be in getting the site up and running.
The council plans to lease the the land from the Homes and Communities Agency, which owns it, for traveller site use.
Many travellers evicted from Dale Farm in 2011 moved just a few yards down the road to Oak Lane, where they continue to live illegally.
'20 years of strife'
Council leader Tony Ball said some of the pitches on the new site may go to the Oak Lane residents.
However, he said, all spaces would be allocated to travellers with a local connection who were in "most need".
"We've got 113 authorised pitches in Basildon and those families are growing and they've got long connections with Basildon."
Nora Sheridan, who lives in Oak Lane, said if she got a pitch at Gardiners Lane it would mean her children's schooling would be secured.
One resident living near Gardiners Lane said the issue of traveller settlements had caused "20 years of strife".
The clearance of 49 illegal pitches at Dale Farm in 2011 was the culmination of a 10-year battle between travellers, who bought a former scrap yard on green belt land, and the council.