Colchester and Basildon hospitals: Health minister has concerns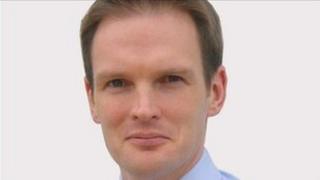 Health minister and doctor Dan Poulter said he would have concerns about recommending two Essex hospitals to his patients
Higher than expected death rates have been found at Colchester Hospital University Trust, Basildon and Thurrock University Hospitals Trust.
Investigations by the NHS Commissioning Board are to be carried out.
Colchester hospital said its death rate was falling. Basildon apologised and said changes were being made.
According to the commissioning board, both hospitals had "poor results for a key mortality measure for a period of two years".
Between July 2011 and June 2012, there were 2,151 deaths at Colchester and 1,943 at Basildon. However, the number of expected deaths for the same period were 1,851 and 1,698 respectively.
The investigations into the two trusts - and three others in England - will be carried out by Professor Sir Bruce Keogh.
He is expected to report back in the spring.
Dr Poulter, a junior minister and a hospital doctor, said mortality indicators were like smoke alarms.
Sometimes a higher than average death rate could be "benign" and reflect the types of procedures carried out, he said.
He was asked by BBC Essex whether he would recommend Colchester or Basildon.
Dr Poulter said: "Certainly, or based on the fact there has been higher mortality rate data in the past, I would have concerns at the moment.
"I would want to look very seriously at the findings of Bruce Keogh's review before recommending either trust.
"We can see that at Colchester and Basildon for some time those hospitals have been well above the average and that does deserve investigation.
"What we do know is patients on a day-to-day basis in general are well looked after locally."
Clare Panniker, Basildon's chief executive, said: "We will fully support the review by Sir Bruce Keogh and believe it can only further support our work in this area.
"A great deal of work has already taken place and more is under way to achieve consistently high standards of care."
Colchester hospitals said the number of deaths there had been falling and were within expected levels, according to different criteria.