Lord Hanningfield: High Court reserves arrest judgement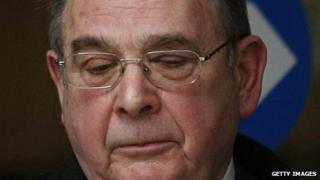 A High Court judge has reserved his decision on a damages action brought against Essex Police by disgraced peer Lord Hanningfield.
The former leader of Essex County Council claims he was unlawfully arrested and detained in 2011.
He was arrested for alleged fraudulent use of a corporate credit card. That case was eventually dropped.
The High Court will give its written verdict at a later date. He is suing police for £6,500.
The peer was held in September 2011 - days after being freed from jail for falsely claiming £28,000 in parliamentary expenses.
The arrest was in connection with an investigation into the peer's expenses during his time as leader of Essex County Council.
Police deny the arrest at his home near Chelmsford was unlawful.
The court heard police were invited into the house before Lord Hanningfield, 72, was taken to Braintree police station, interviewed and bailed without any conditions.
Lord Hanningfield told Mr Justice Eady he accepted he made mistakes over his parliamentary expenses but did not ever think he was doing anything wrong.
He served nine weeks of a nine-month jail sentence.
"I was convicted by a jury and that's how life is. It is water under the bridge."
He said he was surprised and upset about the Essex investigation and thought the allegation against him was "ridiculous".