Hertfordshire Police officer wins payout from own force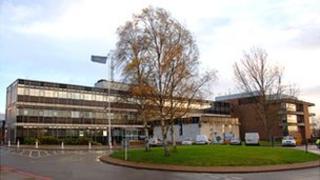 A police force has paid one of its serving officers an undisclosed sum in compensation for unlawful detention.
The officer was arrested by Hertfordshire Police on suspicion of misconduct in public office as part of a wider inquiry into alleged leaks.
He was never charged with an offence and he was not disciplined.
The BBC has been told a gagging clause forbids him from talking about the settlement. Hertfordshire Police declined to comment.
The constable, who the BBC has decided not to name, was arrested on 8 May 2007 as part of an investigation into the alleged leaking of confidential information.
Sally Murrer, a journalist working for the Milton Keynes Citizen newspaper, was arrested on the same day, along with Mark Kearney, then a detective sergeant with Thames Valley Police.
Human rights breached
Mr Kearney's son Harry, a serving soldier, and Derek Webb, a private investigator for the News of the World, were also arrested.
At a trial at Kingston Crown Court in November 2008, it was alleged Mr Kearney had passed confidential information to Mr Webb and Ms Murrer, his former lover.
But the case collapsed with Mr Kearney cleared of misconduct in public office, and his son, Ms Murrer and Mr Webb all cleared of aiding and abetting misconduct.
The judge, Mr Justice Southwell, said their human rights had been breached.
"The protection of journalists' sources is a cornerstone of the freedom of the press... which is so important for a healthy and democratic society," he said.
The BBC has been told the Hertfordshire officer was arrested after his name was mentioned in a voicemail message left on Mr Webb's mobile phone.
He was suspended from duty but reinstated shortly afterwards.
'Total fiasco'
The message also referred to another serving officer from the Metropolitan Police, who the BBC understands was never interviewed or arrested.
The BBC has been told that after the Hertfordshire officer's arrest, Police and Criminal Evidence Act procedures were not followed correctly. It is understood the force has since reviewed its processes.
Ms Murrer said she was "delighted" the officer had been awarded compensation
"He was caught up in the total fiasco that was our arrest. None of us has received any compensation," she said.
Hertfordshire Police Federation declined to comment.
Mr Webb said: "I'm not in a position to comment at this stage as I'm planning to consult solicitors about my arrest and the police raids on my home."