Gastric bug holidaymakers sue First Choice tour operator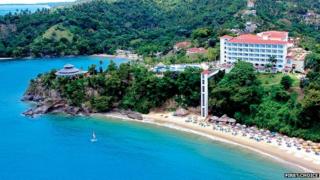 An Essex couple who say they still have a gastric illness that ruined their Caribbean holiday two years ago are to take the tour operator to court.
Dennis Wood, 63, and his wife Margaret, 71, from Clacton-on-Sea, went to the Dominican Republic in 2011 to celebrate their 40th wedding anniversary.
But the couple both fell ill at the Gran Bahia Principe Cayacoa hotel.
Tour operator First Choice said it was "sorry" to hear of the case, but could not comment further for legal reasons.
Mr Wood had to spend five days in hospital while in the Caribbean.
The tour operator said in a statement: "We are sorry to hear that Mr and Mrs Wood did not enjoy their holiday experience at the Gran Bahia Principe Cayacoa in the Dominican Republic.
"As the matter in question is currently subject to a legal process, it would be inappropriate for us to comment any further at this time."
Suki Chhokar, from solicitor's firm Irwin Mitchell which is representing the couple, said: "The Woods' plan to celebrate their 40th anniversary were completely ruined when they were struck down with illness.
"We are now issuing court proceedings to help the couple in their battle for justice."
Mr Wood said he still suffers from stomach pains, diarrhoea and nausea and his wife also continues to suffer illness.
"The illness has had a huge impact on my life. I'm not as fit as I used to be since the holiday and when I get up I never know if I will be fit enough to do the tasks I've planned for the day."