Maureen Lear: Essex grandmother fuels scooter passion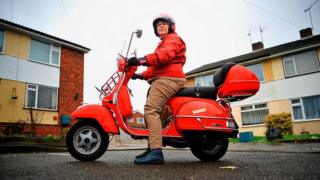 Confusing a moped with a scooter in the company of Maureen Lear is unwise.
Scooters, after all, have been her passion for more than 50 years.
And the 69-year-old Colchester grandmother hopes to ride the roads until her dying day.
She was introduced to scooters by her first love, aged just 16 years old.
From that moment on, she was hooked.
She got her first ride - a Capri - aged 17 and passed her test at 18.
Thirty or so scooters later and Mrs Lear, whose husband David passed away nine years ago, is still riding.
'Ride outs'
Asked what her children think, she said: "I think they think I'm eccentric.
"Nobody else in my family had any interest in scooters, not even my husband. I did try to teach him to ride but he wasn't really interested.
"It is only me that's mad.
"My grandson Jack likes a scooter. He says he would love to sit on the scooter, but I don't think his father is too keen."
Mrs Lear, who has arthritis, said she feels "ageless" when she's out on the road.
She added: "I plan to ride as long as I can, or as long as I can keep the licence. I get tested each year now.
"My favourite times have been the 'ride outs' when a group of us go off somewhere.
"I did a ride out about four years ago. There were only a couple of us girls.
"Everybody else was men and youngsters, boys really. We felt quite honoured really to be with them."
'Mods and rockers'
In the hallway of her home hangs a Quadrophenia poster.
But her memories of the 'mods and rockers' period of the 1960s stand in stark contrast with the great clash of youth cultures portrayed by the media.
Mrs Lear chose scooters over motorbikes simply because she preferred them.
"I had friends who were rockers and we used to go to cafes and they were always friendly.
"There were no fights. There must have been squabbles, but I never got involved.
"I wasn't keen on getting on the back of a motorbike, whizzing down the road, hanging on for dear life. No, there's nothing like a scooter."
That passion for scooters is something riders still share, she said.
When Mrs Lear stops beside a fellow rider at traffic lights, she is always asked about her scooter and riding history.
"All of us on Vespas or Lambrettas when they see each other they give each other a wave, always, all the way through the years.
"It is really nice."