Mackenzie Cackett death: Parents criticise 'feeble apology'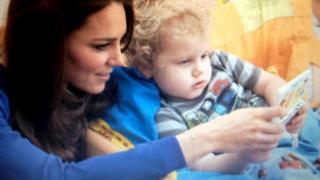 The parents of a four-year-old boy who died of cancer have said a hospital's "feeble apology" over delays in his treatment is "unsatisfactory".
Mackenzie Cackett was taken to Colchester Hospital four times in seven months between 2010 and 2011 before being diagnosed with a spine tumour.
The hospital, one of five being probed over high death rates, said there had been "breakdowns in communication".
The Duchess of Cambridge, who met Mackenzie, paid tribute to his courage.
He was at the Treehouse Hospice, in Ipswich, after his parents, Danielle Uren and James Cackett, of Halstead, Essex, were told in January 2012 he had just days to live.
Kate, royal patron of East Anglia Children's Hospices, met Mackenzie at the hospice when she gave her first public speech in March.
In a tribute sent to the boy's parents, the duchess said: "I was totally bowled over by his courage, his strength of spirit and his brilliant sense of humour."
'Backwards and forwards'
Ms Uren, 29, said her son started having headaches and being sick on a daily basis in summer 2010.
In between "countless visits to the GP and the walk-in centre", Mackenzie was taken to Colchester Hospital four times over the seven-month period before doctors discovered a tumour at the top of his spine.
"It was seven months going backwards and forwards to the doctor's every few days," said Ms Uren.
"As a parent you just know when something is not right with your child. He was constantly being sick all over the house so we knew something just wasn't right with him.
"One of the doctors even said 'you have a perfectly happy, healthy child here - take him home', it was quite ridiculous."
The cancer was removed in February 2011 and Mackenzie looked set for recovery, but when the cancer returned it took a further two months for it to be diagnosed.
Doctors dismissed his symptoms as being unrelated to the original tumour, the family say. In January 2012, Mackenzie woke up paralysed from the waist down.
His parents were told he had between three days and two weeks to live. He died on 28 May.
"I think he just knew that we was poorly, we didn't try to explain to him what was going on," said Ms Uren.
'Magic powers'
"He said a couple of times he'd 'lost his magic powers', he couldn't work out why he couldn't walk anymore."
A spokesman for Colchester Hospital University NHS Foundation Trust said: "We would like to express our heartfelt sympathy and condolences to Mackenzie's family following their loss.
"Early in 2011, in response to a complaint from Mackenzie's mother, we apologised in writing to her for a series of breakdowns in communication.
"Our lead paediatric oncologist and our matron for children's services have held several meetings with his parents to discuss their concerns about the care of their son, both before and after his death in May last year.
"Some of his care was provided at a specialist unit at Addenbrooke's Hospital, and our clinical staff worked closely with colleagues at the Cambridge hospital.
"We have always made it clear to Mackenzie's parents that our door is always open to them if they have any outstanding concerns they wish to discuss."
Ms Uren said the hospital's response was "not really good enough" and "all very vague".
"I'm in the process of writing to the chief executive of the hospital as we haven't had anything that's anywhere close to a satisfactory answer to outstanding issues that need to be highlighted.
"An early diagnoses just could have made that all important difference."
Colchester Hospital was named on Wednesday as one of five hospital trusts being scrutinised in the wake of the public inquiry into failings at Stafford Hospital.