Double murderer David Oakes dies in hospital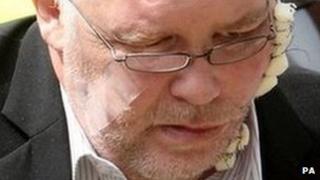 A 51-year-old "monster" convicted of shooting dead his partner and their daughter has died in hospital.
David Oakes shot Christine Chambers, 38, and daughter Shania, two, at their home in Braintree in June 2011.
Oakes, of Steeple, near Maldon, was found guilty by a Chelmsford Crown Court jury last May and sentenced to a whole-life term.
Imprisoned at Durham's HMP Frankland, he died in hospital on Monday of presumed natural causes.
His death will be investigated by the Independent Prisons and Probation Ombudsman.
Oakes' best man Ian Flitt said he had mixed emotions about Oakes' death, thought to be from cancer.
"He was a monster. But I remember him being my best mate as well.
Degrading assault
"It [his death] is welcome news and the end to a sad saga.
"His death is probably the best thing for everybody concerned, including him [Oakes]."
The trial jury at Chelmsford in 2012 heard he had subjected Miss Chambers to a degrading assault lasting several hours.
Drunk and on cocaine, he shot his daughter at point-blank range and shot Miss Chambers three times, before turning the gun on himself.
Prosecutor Orlando Pownall QC said: "He succeeded in the first part of his ambitions but failed in his attempt on his own life."
Oakes and Miss Chambers had been due in court as part of the custody arrangements for Shania at the time of the killings.
Miss Chambers' other daughter, then aged 10, witnessed the attack but escaped out of a window to her father Mr Flitt's house nearby.
'Bullying and controlling'
Oakes was found semi-conscious after blasting himself in the face and was taken to hospital.
His whole life sentence made him one of a limited group of inmates who would never be released from prison.
Mr Justice Fulford described Oakes as "a bullying and controlling man, who had frequently inflicted violence on Miss Chambers during the six years of their relationship".
"He killed his ex-partner and their young daughter simply because he knew she could not bear to be with him and wished to start a new life."
In November, the Court of Appeal refused to quash the whole-life order imposed on the killer.
He was one of several inmates who argued such orders were incompatible with Article 3 of the European Convention of Human Rights, which prohibits torture and inhuman or degrading treatment and punishment.