Sacked dinner lady Carol Hill 'delighted' at tribunal judgement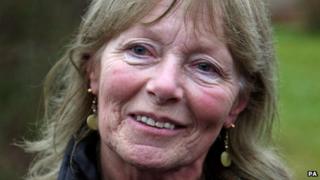 A tribunal which reduced compensation to a dinner lady sacked for telling a parent about her bullied daughter has been criticised.
Carol Hill was sacked by Great Tey Primary School near Colchester in 2009 after telling parents their child had been whipped with a rope.
Mrs Hill appealed a tribunal which docked her compensation by 80% despite upholding her unfair dismissal claim.
The school said the appeal did not alter the findings of the overall case.
The original tribunal reduced her compensation from £350 to £49.99 after deciding she was partly to blame for her dismissal.
It also claimed she could have been sacked after two months had different procedures been followed.
The school fired her claiming she had breached confidentiality rules by speaking to the parents and media, and for acting in a "manner likely to bring the school into disrepute".
'Never been about money'
But the appeal tribunal said the original panel, in Bury St Edmunds, had followed "an erroneous approach" in cutting the amount of compensation owed and had not "precisely" identified what was confidential about the information passed on or to whom it was confidential.
Mr Justice Langstaff, president of the appeal tribunal, also criticised the original panel for the way it dealt with issues of Mrs Hill's freedom of expression under Article 10 of the Human Rights Act.
He said the panel had used a "home spun" version of the law rather a "structured approach" to the actual wording of the law.
His findings mean the level of compensation must be considered again.
Mrs Hill said: "I am delighted with the outcome. This appeal has never been about money, but about protecting the children in my care and my right to speak out about what I witnessed at school that day.
"It has been a very stressful ordeal but I feel a step closer to justice."
A spokesman for Great Tey Primary said: "A recent employment appeal tribunal (EAT) upheld Mrs Hill's appeal into her compensation payout following dismissal from Great Tey Primary School.
"It does not change the outcome of the overall case, (i.e. issues around liability), but the EAT have remitted the remedies aspect of it back to the original employment tribunal to re-consider its decision and reassess the amount originally awarded."