Colchester Hospital admits liability in Linda Sears death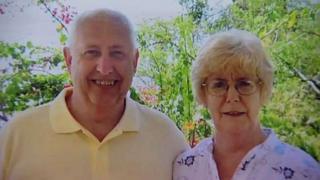 A hospital has admitted liability following the death of a woman given drugs which damaged her liver.
Diagnosed with an underactive thyroid, Linda Sears, 62, went into Colchester General Hospital feeling very unwell in May 2010.
She was taking propylthiouracil and both she and her husband Anthony asked whether the drug might be to blame.
But by the time she was seen by a medical doctor six days later, her kidneys had failed. She later died.
An inquest held last year recorded a verdict of death contributed to by 'neglect'
Colchester Hospital, which is currently the subject of a Department of Health investigation into higher than expected death rates, has admitted liability and said an action plan had been drawn up to improve communication between different departments.
It is currently talking to family representatives to agree a settlement.
Mr Sears said: "I know you can expect to get a couple of side effects, but you could tick every single one of them off.
"I said surely she shouldn't be taking these tablets. But they said they couldn't stop them.
"It was all needless, all they had to do was to do their job properly and look after her.
"That just didn't happen. I just wish I had made more noise now."