Clarence the 'naughty' bull gets TB all clear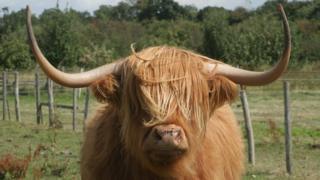 A bull who faced being put down because he was "too naughty" to let vets near him to test for bovine TB has been given the all clear.
Government legislation requires all cattle to be tested.
Carol Jacobs, owner of Greenland Grove Animal Sanctuary in St Osyth, Essex, feared Clarence, a 10-year-old Highland, would have to be destroyed if the compulsory tests were not done.
Despite some "thrashing about", Clarence has now been given his jab.
Clarence weighs about 600 to 700 kilos (94 to 110 stone). He only likes being touched on his face and can be "a little naughty", Ms Jacobs said.
She said she had tried to "make friends" with him after the jab, but he was "not interested".
He has four years until his next TB injection test.