Milsoms restaurant diners flee after racking up £520 bill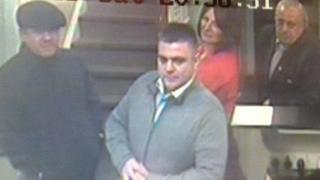 Four diners fled a restaurant in Essex after racking up a bill of £520.
Milsoms, in Dedham, said the three men and one woman polished off two £150 bottles of champagne, two £45 bottles of rioja and ate steak and lamb shanks.
The restaurant said they left without paying at about 23:30 GMT on Saturday in a "very well orchestrated" manoeuvre.
Police said the diners made "no attempt to pay" and have released CCTV images of four people they wish to speak to.
Paul Milsom, managing director at the restaurant, said the diners arrived at about 20:30 GMT but did not have a reservation.
He said they drank alcohol and ate nibbles until a table became available an hour later.
'Suspicious'
They ate two lamb shanks, fillet steak, cod and two sundaes.
Mr Milsom said that shortly before midnight the youngest looking man in the group took the oldest man out to the car before returning and doing the same with the woman.
The third man then asked staff for the group's bill before saying he was heading to the toilet.
He then sprinted out the front door and in to a waiting Silver Peugeot 406, Mr Milsom said.
He added: "We noticed it was something a bit different. They looked a bit suspicious.
"It was very well orchestrated. It looked like they had done it before."