Dale Farm: Basildon Council starts asbestos clean-up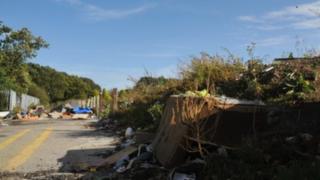 Asbestos scattered after a building fire at a traveller site in Essex is to be cleared up.
Basildon Council contractors will also secure a cesspool at the Dale Farm site near Basildon in Essex amid concerns it poses a pollution threat.
The asbestos debris came from roofing sheets on an industrial building damaged by fire last year.
The council said it planned to recoup costs of the week-long clean-up operation from Dale Farm residents.
An access track for equipment is being laid to the part of Dale Farm affected. The clean-up work is expected to start on Wednesday.
The operation follows the eviction of about 80 families who had been living illegally next to a legally occupied part of Dale Farm in 2011.
Council leader Tony Ball, said: "The council now has no choice but to act and do this work now to address the health issues and then seek to recover the costs from the landowners concerned."