Horkesley Park heritage scheme rejected by council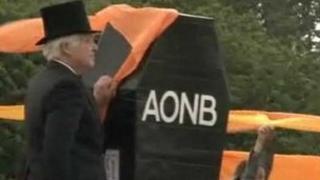 Plans to build a multi-million pound countryside visitor centre in Essex have been turned down by planners.
Bunting & Sons wanted to create the Stour Valley Visitor Centre at Horkesley Park near Colchester, but Colchester Borough Council's planning committee rejected the proposals.
Opponents welcomed the decision, arguing it would have ruined an area of outstanding natural beauty (AONB).
Bunting said the centre would celebrate the countryside and it would appeal.
Will Parry, from the Stour Valley Action Group, said: "We are delighted that the council has rejected it as it would have caused major damage to the Dedham Vale AONB.
"The impact of over 300,000 visitors to a paying attraction would damage the peace and tranquillity of the AONB and compromise this precious asset we have.
'Fear of change'
"The site should be used for agriculture and horticulture and we will carry on fighting inappropriate development."
Bunting said it had been planning the park for 10 years and any new buildings would replace derelict tomato greenhouses which were no longer economically viable.
The firm said its mix of farming heritage, animal centre, fine art, gardens and renewable energy displays would attract 316,000 visitors a year.
Kate Bunting, from the developers, said: "We're extremely disappointed the committee voted against the scheme and went against their own planning officers who recommended approval.
"We were heartened by the support we received from local residents, educationalists, tourist and business groups.
"We're fully committed to the scheme and bringing it to fruition so we will move forward with the appeal process."