Essex man arrested for arson over homes blaze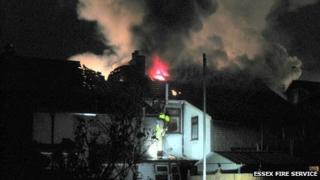 A man remains in custody after he was arrested on suspicion of arson when a fire damaged four homes in Essex.
The fire broke out in a terrace on London Road, Grays, in the early hours of Saturday morning.
Eighteen people were led to safety, including several people who were woken by police who broke into their homes to help them leave.
Police are appealing for witnesses. A joint police and fire brigade investigation continues.