Essex farm workers 'overcome by slurry'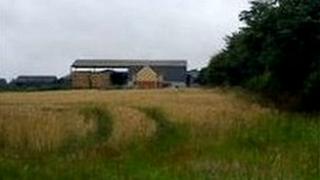 Two farm workers died when one tried to help the other out of a slurry pit in Essex, an inquest has heard.
Paul Gray, 50, disappeared when he climbed over a wall and into the pit after Craig Whipps became submerged in the slurry at Albyns Farm, near Ongar.
It was believed Mr Whipps, 27, had removed bolts from a problematic valve, causing the slurry to gush out, trapping him on 15 July 2011.
Both men would have been overcome by fumes, the inquest heard.
The hearing in Chelmsford was told Mr Whipps and another worker, Calvin Otto, were emptying the contents of a slurry storage tower into a slurry tank below.
A valve was not working properly, which was reported to farm owner Robert Torrance, who told them to "leave it alone".
'Boot sticking up'
The inquest heard that nuts, bolts and a ratchet spanner were later found in the slurry and on the balance of probability it was believed Mr Whipps had tried to solve the valve problem.
The slurry gushed with such force it buckled a quarter-inch thick metal plate and would have trapped Mr Whipps, the inquest was told.
Mr Torrance said: "When I arrived, the slurry was flowing down.
"I could see Craig submerged with a boot sticking up on top of the discharge pipe, his left boot.
"The rest of his body was submerged."
Mr Torrance said Mr Otto was dragged free and was struggling to breathe but no one could get to Mr Whipps, of Stapleford Abbots.
He said he saw Mr Gray and told him "Craig is gone, get back".
He added: "That was the last I saw of him [Mr Gray], I assumed he had got out."
Mr Gray climbed over a 5ft wall to help Mr Whipps and it was only apparent that he too had died when his family turned up at the farm to find out what happened.
The inquest was told fumes, including hydrogen sulphide, would have been emitted in such vast quantities with the slurry that anyone in its path would have collapsed almost immediately.
The hearing continues.