Darren Sapstead 'threw drowning victim Garry Walton in sea'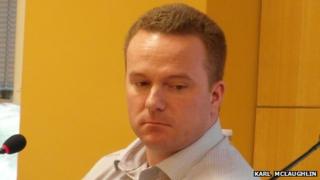 A holidaymaker drowned in Tenerife in 1996 when he was thrown overboard by another tourist, a court has heard.
Garry Walton, 21, of County Waterford, Ireland, drowned on a boat excursion in what was believed to be an accident until a witness changed her story.
The court in Santa Cruz, Tenerife, heard Darren Sapstead "grabbed Mr Walton without warning by the legs and threw him over the side into the sea".
Mr Sapstead, now 38, of Chelmsford, Essex, denies homicide.
The trial in Tenerife heard Mr Walton and Mr Sapstead were on a cruise off Playa de Las Americas with about 40 other passengers on 7 November 1996.
'Drinking heavily'
A court had ordered the circumstances of Mr Walton's death to be reinvestigated after the witness, another passenger, changed her version of events.
The woman told police Mr Walton, who had been drinking heavily on the cruise, had been deliberately pushed into the water by the defendant, the court heard.
Spanish state prosecutor Deborah Padilla said Mr Sapstead grabbed Mr Walton and threw him into the sea.
The boat continued its journey for several minutes before the captain turned it around to begin the search for Mr Walton, an apprentice builder, as darkness fell.
His body was recovered from the sea several hours later.
'Too dangerous'
Addressing the court, Mr Sapstead said he had no involvement in Mr Walton's death and had only realised someone had fallen overboard when he heard the commotion in another part of the boat.
"No-one, not even the crew, was doing anything," said Mr Sapstead, of Thornborough Avenue.
"I started stripping my shoes and T-shirt off to jump in but I was told it was too dangerous.
"I grabbed a lifebelt and threw it into the water but by that time the boat had travelled some distance."
Mr Walton lived in Leeds until he was 15, when his family moved to the village of Touraneena, near Dungarvan.
The trial continues.