Garry Walton Tenerife death: Witnesses 'frightened'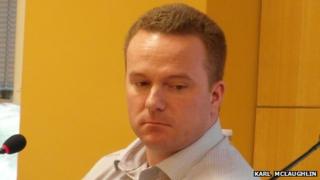 Two key witnesses to the alleged murder of a tourist in Tenerife in 1996 have told a court they were too "young and frightened" to come forward earlier.
Garry Walton, 21, of County Waterford, Ireland, drowned on a boat excursion in what was believed to be an accident until the sisters changed their story.
Darren Sapstead allegedly grabbed him by the legs and threw him overboard.
Mr Sapstead, now 38, of Chelmsford, Essex, denies homicide and is on trial at a court in Santa Cruz, Tenerife.
Lucy and Kathie Smethurst, from Manchester, waited 10 months before incriminating Mr Sapstead because they were intimidated by him, the court heard.
'Walton deserved it'
Both women said Mr Sapstead had visited them in their hotel the day after Mr Walton's death.
Lucy Smethurst, who was 14 in November 1996, said: "He came to our hotel with a friend and it was clearly not a social call.
"He said he did not regret doing it because 'Walton deserved it'.
"He said we should not say anything about it.
"We were both very young and felt intimidated.
"After we had been home for some time, we felt we could not live with what we knew and that we had to come forward with the truth."
She added: "I have no reason to lie now. This is not a personal thing. I just want to see justice done. It's not fair on the victim's family."
'Forced into sea'
Katie, who was 17 in 1996, told the jury she was at the back of the boat with Mr Sapstead when a "very drunk" Mr Walton approached.
"He did not just fall over, he was forced into the sea," she said.
"Darren picked him up around the knees and threw him over the rail.
"He then took a lifebelt and threw it into the water."
Asked why, in her first statement to police, she had said "Darren did not do it, only the victim knows who did it", she responded: "I was young, naïve, and very scared.
"I felt intimated by Darren. I thought if he could do that to someone what might he do to me? I was very afraid."
The court also heard Mr Sapstead's mother had later turned up at Katie's home "to persuade her to withdraw her new version".
The trial continues.