Essex farm workers died in slurry accident, inquest told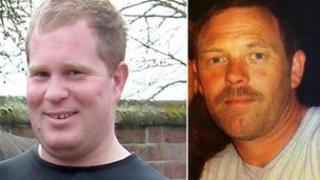 The family of a man killed in a slurry accident says there is a "serious lack" of awareness surrounding the dangers of agricultural work.
Craig Whipps, 27, and Paul Gray, 50, died at Albyns Farm near Ongar on 15 July 2011.
An inquest in Chelmsford heard Mr Whipps died of immersion in slurry after bolts were removed from a tower.
Mr Gray died trying to rescue Mr Whipps. Verdicts of accidental death were recorded in both cases.
The 11-strong inquest jury heard both men would have been overcome by fumes.
During the hearing it emerged Richard Brown and Mr Whipps, who moved to Stapleford Tawney in Essex from Denton in Norfolk, had been emptying the contents of a slurry storage tower into a tank below.
But a valve was not working properly, which was reported to farm owner Robert Torrance, who told them to "leave it alone".
The inquest heard nuts, bolts and a ratchet spanner were later found in the slurry and on the balance of probability it was believed Mr Whipps had tried to solve the valve problem.
'Anxious to learn'
After the hearing, Victoria Whipps described her husband as a "loving father". He never knew his second child, with whom Mrs Whipps was pregnant at the time of his death.
Anna Gray, Mr Gray's widow, said: "The last 18 months have been hell as we've struggled to accept what happened. I just hope lessons are learnt by the farming industry in general about the risks workers face."
Robert and John Torrance, in a statement released after the inquest, said their thoughts were with the families of Mr Whipps and Mr Gray.
"We are anxious to learn any lessons that can be taken from this incident to ensure greater safety for all in the wider agricultural industry," said the statement.