Garry Walton Tenerife death: Darren Sapstead cleared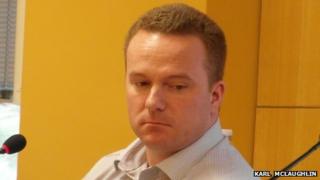 A man accused of killing a tourist in Tenerife by throwing him overboard from a boat in 1996 has been cleared by a jury on the island.
Garry Walton, 21, of County Waterford, Ireland, drowned on an excursion off Playa de Las Americas in November 1996.
Businessman Darren Saptead, now 38, of Chelmsford, Essex, denied homicide. The case centred on the testimony of two sisters who had changed their account.
Mr Sapstead was acquitted by a jury at Santa Cruz court in Tenerife.
The family of Mr Walton, who grew up in Leeds and moved to Ireland with his parents at the age of 15, were in court for the trial and verdict.
The defendant clapped his hands in delight as the translator relayed to him the verdict.
Spanish justice 'joke'
The jurors said they had based their decision essentially on the "many contradictions" in the testimonies of Katie and Lucy Smethurst, who incriminated Mr Sapstead nearly a year after the incident.
Katie Smethurst told Manchester Police in September 1997 that she had seen Mr Sapstead "grab Mr Walton, around the knees and push him into the sea" over a rail at the back of the boat.
About 50 young British and Irish tourists were on board a party cruise.
Her sister Lucy told the court that the defendant had visited their hotel shortly after the drowning "to warn them to keep quiet about it".
In their written verdict the jury said "the sisters changed their story many times between 1996 and today whereas the defendant has always given the same version since the beginning".
Speaking outside court, Mr Sapstead said: "This has cost me a business and nearly 17 years of my life.
"I spent time in five different Spanish jails after my extradition.
"The Spanish justice system is a joke."
Mr Walton's father, Robert, said: "All we ever wanted was a trial and we got that.
"A guilty verdict wouldn't have brought back our dear son.
"But we're still no nearer knowing why he died, so in that respect we're where we were nearly 17 years ago."