Garry Walton drowning: Trial was 'scariest thing in my life'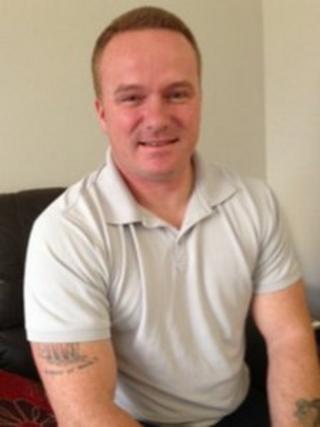 A man cleared of killing a tourist who drowned in Tenerife has described the trial as the "scariest thing in my life".
Darren Sapstead, now 38, of Chelmsford, Essex was acquitted by a jury in Tenerife last week of the homicide of Garry Walton in 1996.
Mr Walton, 21, of County Waterford, Ireland, drowned on a boat excursion.
Mr Sapstead told the BBC he was "shocked" at his arrest by Interpol in Essex in 2004.
The plumber and builder was on the same excursion as Mr Walton and was accused by two sisters of pushing him overboard and then ordering them to keep quiet.
He was cleared by a jury at Santa Cruz court on Thursday.
'Not accused'
They said in their verdict that Mr Sapstead's account had remained unchanged while the sisters had altered their story.
Mr Sapstead told the BBC: "I remember Garry Walton drowning.
"There was a big commotion on the boat, and I went over to the side of the boat, where he had gone in.
"I tried to strip off and save him but I was a bit tipsy and a guy on the boat stopped me."
He said he voluntarily spoke to police in Tenerife and was allowed to fly home, and two years later was called to Spanish court to simply give his version of events.
"At no time was I arrested or accused of anything, so I thought that was the end of it," he said.
"It wasn't until 2004, Interpol police came round and arrested me.
"I couldn't believe it."
'Looked like murderer'
He said he initially fought extradition then flew to Madrid, where he was immediately arrested and put in a holding cell.
He claimed he was given a "drunk" lawyer and an interpreter who spoke no Spanish or English.
Mr Sapstead was transported to five different prisons in Spain and was taken by ferry for the three-day crossing to Tenerife.
He was then bailed to the island for one year, and later paid collateral of £30,000 to be bailed to the UK.
"You think it will get sorted, but it doesn't, it goes into another year and another year," he said.
The case impacted on his work, he said, as potential customers would Google his name and "it looked like I was a murderer".
He said last week's trial was the "scariest thing in my life" as he does not speak Spanish and was not aware of what was going on.
"Even when they said 'not guilty', I wasn't sure that was what was being said.
"It hasn't really sunk in yet."
The Walton family said last week that they were glad the case had gone to trial but were no closer to finding out how their son had died.