Landslide on A12 in Essex cleared away and road reopens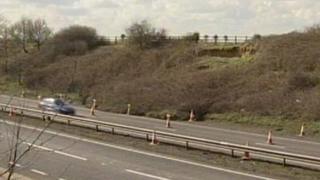 A landslip that closed the A12 in Essex has been cleared away overnight and the road has now reopened.
The northbound carriageway near Colchester United football stadium was closed overnight so earth, bushes, trees and debris could be cleared away.
Long traffic tailbacks developed after the bank collapsed and reduced the road to one lane.
Engineers believe water may have frozen in the ground and when it thawed caused a section of the bank to slide down.