Colchester High Street traffic ban 'hits disabled'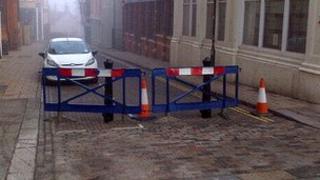 A ban on vans and cars from an Essex high street has left disabled people feeling they are being "driven" out of a town centre, it has been claimed.
The new regulations in Colchester are in place from 11:00 until 18:00 each day.
Colchester Borough Council said the changes would improve the High Street and be good for the town.
But Fair Access to Colchester said: "It's going to greatly impact on people with disabilities."
Jade Hamnett, chairman of the organisation, which campaigns for access rights for people in the town, said: "Many people with disabilities and older people feel they've been driven from the town."
The changes only affect private cars and delivery vehicles.
Online shopping
Councillor Lyn Barton said: "The council is trialling this on an experimental basis and is pleased to be working with key representatives from across the town centre to carefully monitor the scheme.
"The traffic changes will help deliver a better town centre for all.
"With the ongoing challenge and increasing pressure from online shopping it is vital that we make the High Street an attractive destination for residents and their families.
"All current research supports our belief that reducing congestion leads to more residents visiting the town centre."