Harlow fire deaths: Dr Shakoor makes Crimewatch appeal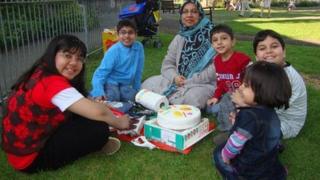 A doctor whose wife and five children died as a result of an arson attack on their home "wants answers" about why they were targeted.
Dr Abdul Shakoor's wife Sabah Usmani, sons Muneeb, nine, and Rayyan, six, and daughter Hira, 12, died last October in an arson attack on their home in Essex.
Son Sohaib, 11, and daughter Maheen, three, died in hospital.
A reconstruction of the events leading up to the fire in Barn Mead, Harlow is to be shown on BBC Crimewatch later.
Police are treating their deaths as murder.
Dr Shakoor said: "I want the answer: why my family?
"Why has somebody done that to ruin my life?"
Police believe the fire was started deliberately by burglars and said the investigation, one of the largest carried out by Essex Police, would continue until "those responsible were brought to justice".
The blaze started downstairs while the family were asleep upstairs.
Dr Shakoor jumped from a bedroom window in an attempt to get help for his family, but was unable to save them.
He suffered severe smoke inhalation.
Police are still trying to track down a teenager on a bike so he can be eliminated from their inquiries.
Dr Shakoor's black Toshiba Satellite laptop, stolen from the house on the night of the fire, has also not been traced.
Anyone with information is being urged to contact police or Crimestoppers anonymously.
Crimewatch will be broadcast on BBC ONE at 21:00 GMT and will also be available to view on the iPlayer for 24 hours.