Exhumation of Lee Balkwell in concrete mixer death probe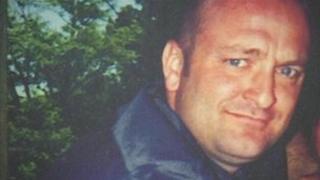 The body of a man found dead in a concrete mixer 10 years ago has been exhumed.
Lee Balkwell, 33, was found in the mixer lorry near Upminster in 2002.
Essex Police initially said the death was the result of an industrial accident but an inquest found he was unlawfully killed.
Mr Balkwell's father called the exhumation a "necessary evil". A senior officer said the process had been carried out with "care and respect".
The body was exhumed at about 20:00 GMT. Police said his body has now been taken to a hospital for a new post-mortem examination to be carried out.
'Not taken lightly'
Det Insp Janine Farrell, of the Kent and Essex Serious Crime Directorate, said: "This investigation is committed to searching for the truth about what happened to Lee Balkwell in July 2002 and we have not made the decision to conduct this exhumation lightly.
"This event has obviously caused Lee Balkwell's next of kin and family further considerable distress and this whole process is being managed to minimise any further anguish as much as possible.
"Our aim is to carry out the process of exhumation, post mortem and re-interment as swiftly as possible to minimise distress to Lee's next of kin and family.
"A specialist team have carried out the exhumation so that it took place with expert care and respect. They were supported by highly experienced Crime Scene Investigators, with able assistance from the cemetery staff."
Mr Balkwell's father Les told BBC News the exhumation at Upminster Cemetery was "a necessary evil".
Last November, five people were arrested in connection with a new investigation into his death.
They remain on police bail.