Mental health review after Cray's Hill double death incident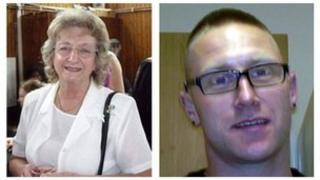 A man who shot his mother and then himself had previously been warned he was "dangerous" by mental health experts, an inquest heard.
The bodies of Maureen Tyler and her 37-year-old son Mark were found in Crays Hill near Basildon last September.
An inquest in Chelmsford heard both died of single shots from a sawn-off shotgun.
During the hearing it emerged Mr Tyler had been for a psychiatric consultation in July, but "no diagnosis" was made.
Det Ch Insp Mark Hall told the hearing Mrs Tyler was shot face-on by her son as she sat in a living room sofa.
But forensic evidence suggests four days passed before Mr Tyler killed himself in an en-suite bathroom.
He shot himself with a cartridge from the right hand chamber of a double-barrelled shotgun.
Concern for Mrs Tyler's welfare grew after she failed to attend the Sunday service at St Mary's in Little Burstead.
'Psychotic'
Essex and Thurrock Coroner Caroline Beasley Murray said Mr Tyler, who had a history of drug use, had attended a mental health assessment in July.
Mrs Beasley-Murray told the inquest: "Nothing came of it. There was no diagnosis. There's nothing that helps us explain why this event took place."
However Mr Tyler's sister Jessie Haggar told the hearing: "He was told he was psychotic. He was told he was dangerous and he was allowed to stay with my mum."
Although representatives from the South Essex Partnership University NHS Foundation Trust (SEPT) were present at the hearing, none were called to give evidence.
After the inquest, the Tyler family said in a statement Mr Tyler was "repeatedly ignored and let down by the system he consistently asked for help from".
They added: "This could have been avoided if certain agencies had heeded warnings and taken concerns about Mark's deteriorating mental health seriously."
A spokesman for SEPT said the case was part of an "ongoing independent investigation and an internal serious incident review" and declined to comment further.