Basildon Hospital: Cure the NHS calls for improvements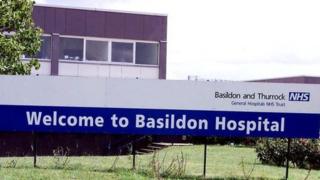 Campaigners in Essex are joining forces with the group Cure the NHS to lobby for improvements at Basildon Hospital.
The hospital has been accused of concealing the full extent of death rates, but denies any "cover-up".
A Basildon branch of Cure the NHS has been set up by Daniel Chapple, whose mother Pamela died at the hospital last month.
The hospital's chief executive Clare Panniker acknowledged past failings but said it was turning a corner.
Last week the BBC investigated claims that mortality data was altered five years ago to cover up the full extent of the hospital's poor death rates.
The hospital had 1,943 deaths between July 2011 and June 2012.
Cure the NHS fears its mortality rates could be as great as those of the heavily-criticised Mid Staffordshire NHS Trust.
'Shocking stories'
Basildon and Thurrock University Hospitals NHS Trust is one of 14 trusts under investigation by NHS medical director Sir Bruce Keogh over higher-than-expected death rates following the Francis report into the Mid Staffordshire scandal.
Basildon Hospital is still investigating Mr Chapple's complaints that his mother received delayed specialist treatment because of late diagnosis.
He said he also witnessed four incidents of out-of-date drugs being brought to his mother's bedside before she died following a brain haemorrhage.
"People started coming forward with similar stories," he said.
"Shocking stories: uncleanliness, out-of-date drugs, poor level of care, people not being monitored. It seems to be a familiar story that keeps occurring."
Julie Bailey, founder of Cure the NHS, said she had been inundated with complaints and was particularly concerned about the level of poor care at Basildon.
"The more voices speaking out together, the more chance you have of getting any improvements," she said.
'React quickly'
Prime Minister David Cameron has been briefed on the complaints about Basildon Hospital.
"Any hospital with poor mortality rates should be a source of concern, but that concern has to be properly investigated to make sure there isn't something wrong with the way that came about," he told the BBC.
"We need to react quickly when figures like this are shown up and that is exactly what the NHS is doing."
Ms Panniker said: "No hospital can afford to be complacent in any way with the findings of the Francis report, so we are looking hard at all of the recommendations that Francis has made and really understand where we need to do more and where we need to do better.
"We want to learn from our mistakes. We want to be transparent. We want to listen to our patients."
She said any improvements would be due to clinical excellence rather than any massaging of figures.