Colchester high street traffic ban lifted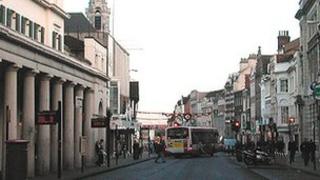 A partial ban on high street traffic in Colchester has been lifted after a "funeral" march by protesters earlier.
For the past month, cars and delivery vans have been banned from the town centre from 11:00 to 18:00 BST.
Essex County Council confirmed it was suspending the traffic order amid widespread opposition from businesses and the disabled.
Jade Hamnett, of the Fair Access to Colchester group, said lifting the order was "a victory for common sense".
The disability group had previously threatened legal action against the council over the partial ban, criticising it as "irrational".
Full access to the town centre will be restored by 21 April.
A spokesman for the council said the decision had been made "due to concerns around the impact" the orders were "having on the town centre".
The decision followed a "funeral" staged by protesters on Thursday who carried a teak coffin to a gathering of about 30 people all dressed in dark clothing.
Some protesters held signs proclaiming the "death of the town".