Colchester Hospital probes toddler morphine overdose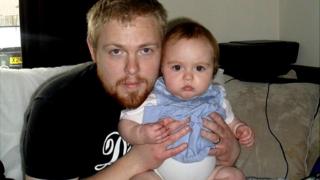 A baby was given a morphine overdose after she needed treatment when a hair became tightly wrapped around her toe.
Eleven-month-old Olivia Pooley was given the drug as medics cut the "hair tourniquet" on her left foot.
Her father Daniel said staff at Colchester General Hospital told him she had been given too much morphine.
She made a full recovery but the hospital has apologised and ordered an investigation.
Hair tourniquets are rare but are most common in babies because many women suffer post-pregnancy hair loss.
Sometimes, a hair can become twisted around a baby's toe or finger, especially inside a sock or glove.
Mr Pooley, 27, said a piece of hair had become wrapped around the toe and had had a "cheese wire effect" causing her pain.
He said: "After it had been removed her toe was in a bad way. She was in a lot of pain and was administered morphine.
"Forty five minutes afterwards we were advised she had been given twice as much as she should have been given, 4mg instead of 2mg."
Mr Pooley said his daughter became "extremely drowsy and very difficult to wake".
"It slowed her breathing down and she was moved to resuscitation for constant monitoring."
Sue Barnett, deputy chief executive at Colchester Hospital University NHS Foundation Trust, said: "We will be contacting Mr and Mrs Pooley by the end of next week, asking them to take part in that investigation so that we fully understand the issues involved."