Lorry driver fined after trailer breaks loose on Essex road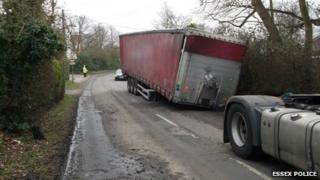 A driver has been fined after the trailer of his articulated lorry broke loose on a country road in Essex.
The trailer became unhitched at Newbridge Hill, West Bergholt, near Colchester on Thursday afternoon.
Police said if the lorry had been travelling faster, the incident could have had fatal consequences.
The driver received a fixed penalty of £60 for using a vehicle in a dangerous condition and £200 for failing to take sufficient breaks on 8 and 9 April.
The lorry had travelled from Purfleet, Essex, before the trailer broke away at about 15:45 BST on Thursday.
It had been on its way to deliver a load of empty plastic crisp packets to a local business.
A mechanical examination found there were no faults with the lorry.
PC Gary Winfield, of Essex Police's commercial vehicle unit, said: "The examination showed that the driver had not secured the trailer correctly to the truck when he collected the load from Purfleet.
"He then drove on the M25 and A12, then on to a small local road where the trailer connection failed as he negotiated a bend.
"Fortunately, the lorry was travelling at a very slow speed at the time of the separation but had it happened while he had been doing the maximum speed of 56mph, there could have been serious or fatal consequences."
The driver also faces the costs of recovering and repairing the trailer which damaged the road surface when it broke free.