Colchester United football trust shuts with 40 job losses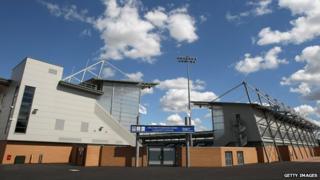 A charitable trust associated with Colchester United Football Club has closed with the loss of up to 40 jobs.
Colchester United Community Sports Trust confirmed on Monday that it would "cease trading immediately".
The independent trust was set up in 2001 to run the club's Football in the Community scheme, which began in 1993.
It is based at Shrub End, Colchester, and said it helped 22,000 people last year with its "sports, education, health and community activities".
Linda Bamford, chairman of the trustees, said: "It is so very sad that we have had to close the trust.
"In the past few months we have explored every avenue to try to keep it going.
"This included moving out of the Weston Homes Community Stadium in December 2012 and reviewing all our activities and staffing levels to meet our budget.
"None of this has been easy."
In a statement, Colchester United said the club was "saddened" to hear of the closure of the trust.
"The club remain committed to making a positive contribution to its local community and, in the coming weeks and months, will look at how we can continue to work with - and further develop - the community activities in Colchester and the surrounding areas," the club said.