Natalie Creane: Mother's frustration over wardrobe injury case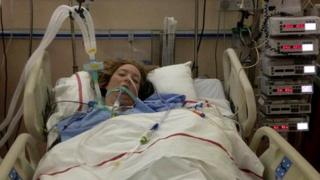 The mother of a British expat seriously injured by a falling wardrobe panel at an Abu Dhabi hotel has spoken of her frustration over legal delays.
Natalie Creane was struck on the forehead by the overhead panel in 2008 and her family is appealing against a court ruling over a compensation award.
Her mother Angie Smith, of Essex, said legal delays in the case had left the family "worried and frustrated".
A court in Abu Dhabi has adjourned the case until 30 April.
Mrs Creane, 34, suffered brain damage when she was hit by the panel while on a break at the luxury Emirates Palace Hotel with her future husband Trevor.
Her injury was so severe that she has been put into medically-induced comas and been on life support machines.
In February the Abu Dhabi Court of First Instance awarded her 200 dirham (£36) for legal costs, despite a £24,000 bill.
'It's horrendous'
She was also awarded 200,000 dirham (£36,000) in compensation. Her lawyers had made a claim for £2.5m to cover Mrs Creane's medical bills, loss of earnings and future treatment.
An appeal into that ruling was due to be heard on Wednesday, but Mrs Smith, 63, said it had been adjourned to give the family time to submit more evidence.
"It shows up massive flaws in the legal system over here," she said.
"Three years of evidence has gone in: expert assessments of Natalie, hundreds of medical documents. It's horrendous."
Mrs Smith, of Cold Norton, near Chelmsford, and her husband Derick, 65, are currently in Dubai where they have been caring for Mrs Creane.
She said all three defendants in the case - the hotel, management company Kempinski Hotels and the Abu Dhabi National Insurance Company - had also appealed.
"It's unbelievably frustrating and worrying. The longer it goes on, the more stress is heaped on the family," she said.
"Natalie isn't sleeping with worry and it's making her even more poorly.
"We're terrified for Natalie's life. Until this is sorted out and they have done the right thing, she's never going to have a chance of a normal or near-normal life."
A spokesman for Kempinski Hotels said: "Kempinski Hotels has respectfully noted the Abu Dhabi Court of First Instance's ruling of 27 February 2013 in the case of Natalie Smith vs Emirates Palace Hotel.
"As the matter is now under appeal before the court, it would not be appropriate to say anything further."