Peregrine falcons halt Essex reactor decommissioning plan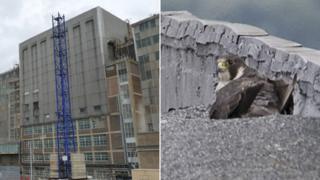 Nesting peregrine falcons have halted work to decommission a former nuclear reactor in Essex.
The pair were spotted on the roof of one of two reactors at the Magnox Bradwell-on-sea site, which were about to undergo maintenance work.
Because the birds are protected under the Wildlife and Countryside Act, the company has had to "pause" the work.
A spokesman said it had taken advice to ensure other work at the site "would not distress our new residents".
There are about 1,400 breeding pairs of peregrine falcons in the UK. They normally favour rocky cliff tops to make their nests.
However, the two birds have this time chosen to build a nest more than 50m (165ft) up at the industrial site.
It is not the first time peregrines have chosen the reactors as a nesting spot. In 2008 another falcon was filmed in its nest on the reactor.
The latest residents, however, have chosen a less accessible spot and filming the nest has not yet been possible, the spokesman said.
Steve McNitt, the site's safety and environment manager, said: "It's difficult to know how long the falcons will stay.
"We are hoping for a successful brood and are planning on having them around through the summer. Eggs normally hatch after around four weeks, and the chicks begin to fly about three weeks later.
"They tend to stay close to the nest and remain dependent on the adult falcons for around a further two months."
Members of Essex Birdwatching Society have confirmed seeing the falcons returning to the reactor nesting site.
The twin reactors at Bradwell-on-sea are currently undergoing decommissioning work. The site was shut down in March 2002 after 40 years of operation.