'Desperate' Basildon dad in A127 roundabout job bid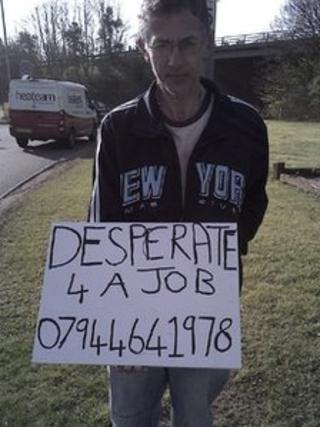 A father says he is so desperate for work he is advertising himself on a busy Essex roundabout.
Matt Adkins, 45, has worked in a number of roles over the years, including as a gardener and supermarket butcher.
But he says that despite having up to two interviews each week, he is still unemployed.
"This is a last resort," says Mr Adkins, standing on the A127 at Basildon. "I'm desperate for a job and will do anything for a good day's pay."
He says: "There's not much I haven't done over the years. I've been to the job centre and done all the usual things to find work but nothing.
"I need a job. I'm not a greedy man - I need to support my wife and my son."
He says not finding work has been a "disheartening" experience.
He was given two possible leads for jobs on Wednesday morning - including one from a man who handed him a business card.