Essex Police chief puts senior officers back on the beat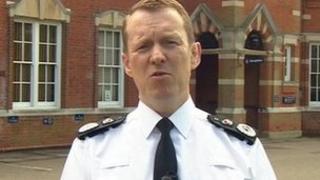 A new chief constable wants his senior officers to get back out on the beat in Essex.
Stephen Kavanagh expects every officer at the rank of chief inspector and above to spend fours hours a month on the "shop floor".
Senior meetings will also be held at local stations instead of headquarters.
Mr Kavanagh said: "We are spending time out on patrol, with custody, staff on front counters, seeing what local officers and staff are experiencing."
The chief constable, who took up his post at the start of the month, held his first senior meeting at Colchester station on Friday.
He then went on patrol with the neighbourhood policing team.
He said: "You learn about what people are doing, the passion they've got got to keep the area safe, the relationship they've got with local people."
PC Jason Talbot, from the Colchester prisoner process team, walked the streets with the team.
"It's a good idea that they are able to come out and see what we do and show them we know what we're talking about," he said.
"There were some impromptu conversations with members of the public and we were able to answer their questions.
"They seemed to like the idea of having chief officers walking around."
Mr Kavanagh, who was the Metropolitan Police's deputy assistant commissioner, has previously said he wants to make the force the "best in the country".