Kirby Cross bungalow pulled apart in kitten hunt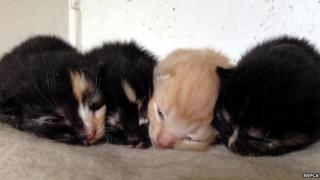 A search for kittens left a bungalow with holes in the wall and floorboards pulled up.
The hunt started after a stray ginger cat got into the loft of the property in Kirby Cross, Essex, and gave birth.
Sue and Brian Davie, who do not own a cat, called in the RSPCA after hearing the sound of kittens, on Saturday.
The four newborns had fallen down a cavity wall gap and ended up beneath the bungalow. Two of them have been adopted by firefighters.
A specialist urban search and rescue team, trained to deal with the aftermath of earthquakes and other natural disasters, was called in to help.
'Covered in brick dust'
RSPCA inspector Sarah Elmy said: "Floorboards were lifted and we then got the first one out - I reckon it was only a week old, its eyes and ears were still closed and it was covered in brick dust and cobwebs, but appeared strong and healthy.
"The sound of the other kittens had become distant, so the urban search and rescue team for the fire service, who have very good listening gear, were called in.
"With their specialist equipment and knowledge they located the other kittens under the lounge floor and once the carpet had been pulled back and boards lifted we were able to get them out."
Assistant divisional officer Paul Nash said: "The occupants of the bungalow thought it was rather strange as they do not own a kitten or a cat."
All four kittens were reunited with their mother, under the care of the RSPCA, before the firefighters adopted two of them.