Eystna Blunnie murder: McLernon had attacked her before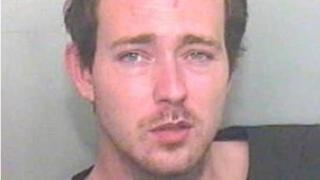 The Crown Prosecution Service (CPS) has admitted it "failed" to charge a man for an attack before he killed his former partner and their baby.
Tony McLernon "lured" pregnant Eystna Blunnie to her death in Harlow, Essex, on 27 June last year.
The 24-year-old left his former fiancee for dead in the middle of the road. Her unborn baby also died.
A review by the CPS found McLernon should have been prosecuted for an earlier assault on Miss Blunnie.
The assault, in which McLernon strangled Miss Blunnie with his hands, happened in April 2012 - two months before he murdered her.
Miss Blunnie was nine months pregnant when she was killed.
'Unreservedly apologised'
Grace Ononiwu, the chief crown prosecutor for the East of England, said the "rational decision" would have been "to authorise a charge" for the assault, based on the CPS domestic violence policy.
"For this failure to authorise a charge in relation to the April 2012 incident, I have unreservedly apologised to Mr and Mrs Blunnie in person and in writing for the distress caused by this decision," said Ms Ononiwu.
She said in response to the case, panels would be set up to examine decision-making in selected domestic violence cases.
McLernon was jailed for life at Chelmsford Crown Court. He will serve a minimum of 27 years before he is eligible for parole.
The trial in March heard how he lured Miss Blunnie to meet him in the early hours of the morning by sending her a text message saying: "I've got a surprise for you."
McLernon had concocted a story that two men had been responsible for killing Miss Blunnie and he was unable to do anything to help her.
In the weeks leading up to the killing he had told friends and family that Miss Blunnie was trying to ruin his new relationship, telling one person he expected to go to prison for what he planned to do.