Hungry caterpillars invade Pitsea gardens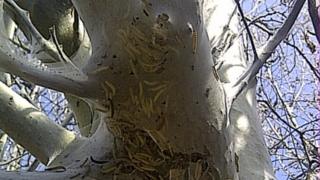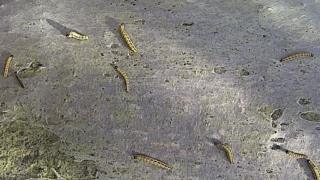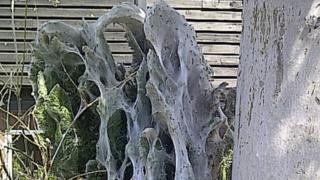 A man has described how he awoke to a "perfectly white" scene after caterpillars infested gardens overnight in Essex.
The ermine moth caterpillars arrived in Stokefelde, Pitsea, just over a week ago.
In just one night the caterpillars munched they way through foliage leaving a "web" of white in their wake.
Phil Cassidy, whose neighbour's 30ft (10m) fir tree was stripped of leaves, said: "It is a dreadful sight."
'Will recover'
The pale, creamy-yellow caterpillars measure just under 1in (2.5cm) in length.
Mr Cassidy, who said the white webs resembled Halloween, said: "I didn't pay much attention to them at first.
"Then the population started to increase."
He said Basildon Council had visited several homes to look at the situation but he said he had been told nothing could be done.
"The tree, we're told, will recover. We just have to let nature take its course," said Mr Cassidy.