Michael Timlin: Southend United footballer jailed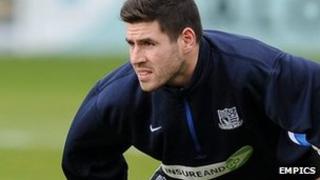 Southend United footballer Michael Timlin has been jailed for 84 days after admitting perverting the course of justice over speeding offences.
Timlin, 28, of Pomeroy Street, south-east London, was charged after giving Essex Police false information about three offences in 2010 and 2012.
His driving licence was also endorsed with penalty points after exceeding a 50mph limit on the A127 in Rayleigh.
Basildon Crown Court ordered Timlin to also pay a £80 victim surcharge.
He was charged with supplying false information to Essex Police in November 2010 and May and December 2012.
The speeding offences were in October 2010 and April and December 2012.
Mr Timlin was also caught exceeding the 50mph speed limit in his Audi A3 on 4 December 2012.
The footballer joined League Two Southend United on loan from Swindon Town in September 2010 and was signed by the club in August 2011.
The club refused to comment.