Bomb squad called to Bowers Gifford school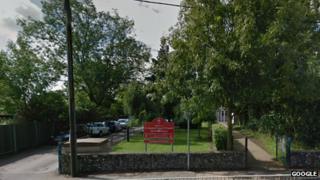 A primary school in Essex was evacuated after a pupil brought an artillery shell to a class show-and-tell.
Police were called to St Margaret's Church of England School in Bowers Gifford, near Basildon, on Wednesday and found the shell had been taken to a sports field.
The field was immediately cordoned off and an Army bomb disposal team was called in, a police spokesperson said.
An inspection found the shell was not dangerous.
Parents were contacted after the alert to collect their children from the 250-pupil school.
All the pupils had been gathered in an outbuilding on the other side of the school away from the field where the shell had been taken.
A spokesperson for the school said later: "We take the safety and well-being of all students extremely seriously.
"Upon learning that a bomb shell had been brought into school we took the precaution of calling police community support officers and then followed their expert advice."
It is believed a year five student had taken the shell into class.